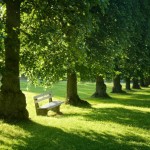 Have you ever wondered why great ideas come to you when you seem to least expect them? You have a problem so you sit down and think as hard as you can…and yet a solution escapes you. Then you take a shower…or maybe a nap, and an idea magically appears.
Ralph Waldo Emerson shares your perplexity with this issue. He was absolutely mesmerized by this mysterious power. I have included some excerpts from his essay The Over-Soul below. After reading it, click the link at the bottom. I promise it will be worth it.
The philosophy of six thousand years has not searched the chambers and magazines of the soul. In its experiments there has always remained, in the last analysis, a residuum it could not resolve. Man is a stream whose source is hidden. Our being is descending into us from we know not whence. I am constrained every moment to acknowledge a higher origin for events than the will I call mine.

As with events, so is it with thoughts. When I watch that flowing river, which, out of regions I see not, pours for a season its streams into me, I see that I am a pensioner; not a cause, but a surprised spectator of this ethereal water; that I desire and look up, and put myself in the attitude of reception, but from some alien energy the visions come.

From within or from behind, a light shines through us upon things, and makes us aware that we are nothing, but the light is all. A man is the facade of a temple wherein all wisdom and all good abide. What we commonly call man, the eating, drinking, planting, counting man, does not, as we know him, represent himself, but misrepresents himself. Him we do not respect, but the soul, whose organ he is, would he let it appear through his action, would make our knees bend.

When it breathes through his intellect, it is genius; when it breathes through his will, it is virtue; when it flows through his affection, it is love.

All reform aims, in some one particular, to let the soul have its way through us; in other words, to engage us to obey. Let man, then, learn the revelation of all nature and all thought to his heart; this, namely; that the Highest dwells with him; that the sources of nature are in his own mind, if the sentiment of duty is there. He must greatly listen to himself, withdrawing himself from all the accents of other men's devotion.
Emerson would write passages and be astounded as to its source. He knew that nothing in his life could have prepared him to write such words…and yet there they were. He knew there was something deeper inspiring him.
Our lives can be hectic…and at times we lose sight of the source of our power. A personal quiet place can take us there. Do you have one?
Click here to begin that journey!