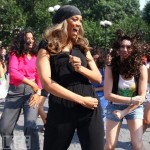 Forget Self-Help courses! Flash Mobs are improving the lives of people more than most of those could. A Flash Mob is an organized routine performed by a group of dancers in a completely random area. These groups can range from less than ten people to hundreds of people. These large groups of strangers are usually brought together by some form of social media.
What do Flash Mobs have to do with life lessons then? I believe if you asked most people why they go to work, they would respond, "Because everyone else does it." They are stuck in a routine and are awaiting the "glory" days of retirement. The fire and motivation is gone. What is the cure to this? Can it really be a random dance with strangers?
Watch the video below and observe not only the dancers but also the people who gather to watch. It won't be tangible but you'll feel the happiness bubbling up inside of them. The man in the suit is not thinking of his impending deadline as he's dancing. The smiling and clapping audience members have forgotten everything in their lives for those five minutes. Most of us live each day with a checklist mentality. We need to accomplish certain goals and cannot rest until we get there.
As these dancers in Antwerp taught me, sometimes you just have to let go of everything and dance, even if only for 5 minutes in a train station.
The real question now is: Who wants to organize the next one?