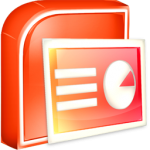 I've been in college almost four years now and I can count the number of great Powerpoint presentations I've seen on one hand. It seems to me that this communication medium has become the established method without true justification. The reason is simple enough – it's just too easy to make a mediocre one. It seems presenters have stopped using Powerpoint for the effect but have begun to use it as a way to remind them of their upcoming lines. Here are some of my steadfast rules:
Never use a theme from Powerpoint. The use of one shows a complete lack of effort. Instead, learn how to use a Master slide and create your own simple design. Never let your theme distract from the presentation.
Minimize your use of text on a slide. Seth Godin's rule is no more than 6 words a slide. It will keep your focus on the fact that the presentation is meant to reinforce your point, not make it.
Do not put too many images on a slide. The viewer will spend more time looking at all the different pictures than listening to you.
On the image note, try not to copy and paste random pictures from Google. Most of the time they look unprofessional and you are better off going with stock photos.
Finally, never use transitions or animations. Those were fun in 8th grade so leave them there.
For more tips on creating a powerpoint presentation check out the Career Resources section for a guide by Seth Godin, the New York Times bestselling author.