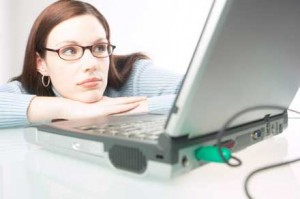 41% of people check their email before they do anything else in the morning. This can be attributed to the task dominant lifestyle we tend to lead. In a strange way, we look for new tasks we need to perform without considering the fact that there are plenty of important tasks left undone. This leads to increased stress as our pile of work grows the second we wake up. This habit sets the tone for the rest of the day. If you do this every day (as most do), then you are setting that tone for the rest of your life.
Here is a simple plan to get off this habit:
1. Gather your inspirational resources

iPhone and iTouch users – Download the Solace and Courage Iphone App by Ajnaware. For those of you who are not familiar with this app, I consider it to be one of the best applications out there and easily the most inspirational.
Non iPhone or iTouch users – Print quotes from either Third Minds or another website with inspirational quotes. On a side note, we promise to keep updating our quotes section!
2. Read at least 3 quotes on either the app or the paper the second you wake up. Then pause for exactly one minute and think about them.
If you follow this habit I guarantee you will find yourself leading happier days and sleeping better. What has been your experience doing this? Any other tips you use to start the day off successfully?