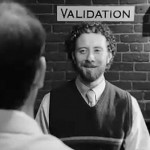 As I was backpacking through Europe this summer, I made an interesting decision: I decided to stay at a Christian hostel in Amsterdam. They promised FREE FOOD and a really quiet atmosphere (something I needed after my previous hostel experiences). I was just finishing my "free food" when I heard the catch: I had to watch a short movie. I prepared to get a dose of Jesus with my stringed beans and rice.
To my surprise, I had a huge smile when the movie ended. And want to know the crazy part? It wouldn't go away. My mind told me, "The acting was bad, the lines were cheesy, and it wasn't even in color!" Yet none of this seemed to remove the dumb grin on my face.
See for yourself…and you might end up with a smile that won't go away.