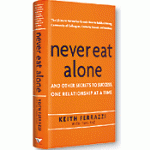 Summary
Keith Ferrazzi is heralded as one of the most "connected" individuals of the 20th and 21st centuries. He was named one of the top "40 under 40" business leaders in America by Crain's Business, and remains one of the foremost experts on marketing through relationship building. Never Eat Alone was released in 2005 and has become one of the most influential books of the 21st century. It focuses on the principle of establishing relationships in business by connecting rather than networking. Ferrazzi claims that what distinguishes highly successful people from others is the way they reach out to people. They understand the power of relationships and are able to use it in a way that benefits everyone. By helping his readers understand the necessary mind set, skill set, and steps towards establishing meaningful relationships, Ferrazzi lives one of the philosophies his book teaches, that part of success is helping others to become successful.
Review
One of the most overlooked yet most important aspects of success is your network. People tend to believe in the term "self-help," when in reality it's nothing but a misnomer. All "self-help" implies is the desire to be better, but we cannot achieve that by ourselves. We need to surround ourselves with people that can help us achieve our goals and put us on the path to success. One of my greatest passions in life is people, and it has always been my goal to improve the way I interact with and help others. I read Never Eat Alone after a friend recommended it to me, and it has since been a cornerstone of my success. It motivated me to overcome some of the issues I face when dealing with people that I meet for the first time, and has helped me understand the power of relationships.
My favorite aspect of the book: I love the way that Keith Ferrazzi organizes the book's sections. He tries to help his readers understand how simple the principles he is preaching are by separating them into easy-to-follow sections. More importantly, he uses a section called "The Connectors Hall of Fame," where he uses examples of influential people that have benefited from living their lives by these principles.
My least favorite aspect of the book: A couple of the sections are repetitive in their nature. I do not think that this was overlooked purposely, but instead believe that the book has certain principles which it wants to make sure that each one of its readers completely understands.
My recommendation: If you want to be successful in business, this book is a must read. Though some of the principles discussed in the book may seem like common sense, it is incredible how many people overlook them. It has forever influenced the way I view relationships, and I believe that it is a book that can help any person achieve success in whatever field of work they may pursue.
Joey's Rating: 3 stars