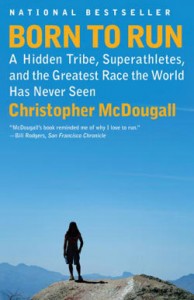 Summary
An epic adventure that began with one simple question: Why does my foot hurt?
Isolated by Mexico's deadly Copper Canyons, the blissful Tarahumara Indians have honed the ability to run hundreds of miles without rest or injury. In a riveting narrative, award-winning journalist and often-injured runner Christopher McDougall sets out to discover their secrets. In the process, he takes his readers from science labs at Harvard to the sun-baked valleys and freezing peaks across North America, where ever-growing numbers of ultra-runners are pushing their bodies to the limit, and, finally, to a climactic race in the Copper Canyons that pits America's best ultra-runners against the tribe. McDougall's incredible story will not only engage your mind but inspire your body when you realize that you, indeed all of us, were born to run.
Review
When I picked up this book, I did not expect a motivational masterpiece. I had recently begun running with Vibram five fingers and someone had recommended this book to me. The first surprise about the book is the way it grabs you. You become enthralled with the story about the legendary race and you can't seem to put the book down. In addition to telling the true story of the world's greatest race, the author manages to explore the idea that the human body was engineered to run. This has a powerful side effect: you just want to go outside and run! Overall he does an incredible job of mixing in facts with a compelling story.
My favorite part: The author preaches the simple lesson that exercise should be fun. It seems everyone trudges to the gym in an effort to lose a few pounds but he argues you should be excited to exercise! Running is not just a means to an end but an incredible journey in itself.
My least favorite part: I can't think of anything that I personally didn't enjoy about it but some readers may differ in their opinion if they have a strong mindset against running.
Nikolai's rating: 4.5 stars