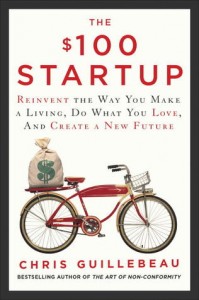 Summary
In The $100 Startup, Chris Guillebeau shows you how to lead of life of adventure, meaning and purpose – and earn a good living. In preparing to write this book, Chris identified 1,500 individuals who have built businesses earning $50,000 or more from a modest investment (in many cases, $100 or less), and from that group he chose to focus on the 50 most intriguing case studies. In nearly all cases, people with no special skills discovered aspects of their personal passions that could be monetized, and were able to restructure their lives in ways that gave them greater freedom and fulfillment.
Not content to talk in generalities, Chris tells you exactly how many dollars his group of unexpected entrepreneurs required to get their projects up and running, what these individuals did in the first weeks and months to generate significant cash, some of their key mistakes, and the crucial insights that made the business stick.
In ancient times, people who were dissatisfied with their lives dreamed of finding magic lamps, buried treasure, or streets paved with gold. Today, we know that it's up to us to change our lives. And the best part is, if we change our own life, we can help others change theirs. This remarkable book will start you on your way.
Review
It's not too hard to run into a business book that will continuously have statements like "Go for it" and "Don't give up", but when I read $100 Startup I was thrilled to find a business book that presents the reader with a how-to guide to create a project and survive the first few months. This book does not concentrate on technology startups or businesses that require large funding to start; instead it focuses on entrepreneurs who reached financial freedom by doing what they love. The author walks you through the entrepreneur's best and worst moments in the process of detaching from their regular jobs.
My favorite aspect of this book: For the first time I ran into a book where the author talks about a different stereotype of entrepreneurs; he doesn't concentrate on entrepreneurs who created empires and changed the world but instead on entrepreneurs that reached financial freedom with $100 or less. The author helps the reader understand that to reach financial freedom you don't need an MBA, a 60+ page business plan or $100,000 to start.
My least favorite aspect of this book: The author chose around 50 people to narrate their stories and use as examples throughout the book. This works for the most part but at points I felt that the author was jumping around too frequently to all the ideas and characters.
Simon's rating: 5 stars