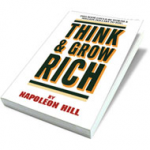 Summary
Napoleon Hill was one of the earliest producers of the modern genre of personal-success literature. His most famous work, Think and Grow Rich, is one of the best-selling books of all time. He draws on stories of Andrew Carnegie, Thomas Edison, Henry Ford, and other millionaires of his generation to illustrate his principles. Hill called his success teachings "The Philosophy of Achievement" and he considered freedom, democracy, capitalism, and harmony to be important contributing elements. For without these, Hill demonstrated throughout his writings, personal beliefs are not possible. - Amazon.com
————–
Review
If someone spends twenty years of his life researching the secret to success by interviewing America's richest individuals, isn't it worth spending one or two weeks reading that book? The best case I can make for this book is that it is the foundation for our entire venture. It changed my life after reading it for the first time about four years ago and I have read it over ten times since. This book is for any person who is at a point in their lives where they are unsure of their next steps. It will give you the strength and the character to be able to achieve the dreams you have always had. You will no longer have to leave these to your imagination.
My favorite aspect of the book: Napoleon Hill did a great job of succinctly laying out his research. He guides you through the exact steps you have to take to reach your definition of success. The steps include developing a definite purpose, building a Positive Mental Attitude (PMA), channeling the power of the sub-conscious mind and dealing with adversity. For most people, many success books are too vague but he clearly outlines a definite path in his masterpiece.
My least favorite aspect of the book: The original book was written in 1937 and since then many publishers have tried to update it with current examples. Unfortunately most of the ones I have picked up have distorted his message and cannot be relied upon. Beware of these editions if you purchase a copy.
My recommendation: Buy the personal study edition of Think and Grow Rich. It gives you space to write down notes as they pop up in your head. The worst thing you can do is fly through the book as quickly as possible. This book was meant to inspire thought and you should write down thoughts as they come up. This edition can be purchased through Amazon through the link below.
Nikolai's Rating: 5 Stars